digital culture
field trips
networks
open source
FAT Lab presentation & Artzilla "Skate the Web" opening / Oct 31st.
SATURDAY, OCTOBER 31st 2009, 8pm at BETAHAUS Berlin, Prinzessinnenstrasse 19-20, directly at Moritzplatz.
On our Upgrade! Helloween edition Aram Bartholl and Tobias Leingruber will present The Free Art and Technology (F.A.T.) Lab.
FAT Lab is an organization dedicated to enriching the public domain through the research and development of creative technologies and media. Release early, often and with rap music. This is Notorious R&D. The entire FAT network of artists, engineers, scientists, lawyers, musicians and Bornas are committed to supporting open values and the public domain through the use of emerging open licenses, support for open entrepreneurship and the admonishment of secrecy, copyright monopolies and patents.
FAT Lab is nominated for the transmediale award 2010.
Aram Bartholl and Tobias Leingruber are both members of the FAT Lab collective and will talk about their own artistic practice, too.
On the same night Tobias Leingruber will present Artzilla.org including the opening of his "Skate The Web" solo show at Betahaus.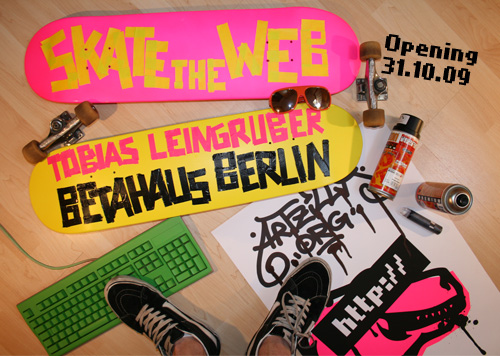 Artzilla.org is dedicated to the development of experimental browser software. The platform collects and exhibits creative works, shares code and tutorials, and publishs news from the scene.
Internet artists, street artists and skateboarders are using public architecture in ways, the creators didn't expect it to be used. Artzilla.org is a collection of browser modifications which challenge our online society by pointing out cultural clashes, remixing existing structures in uncommon ways, and using public online services to create art work. Let's SKATE THE WEB!
Artzilla was presented at WORM Rotterdam and ROFL-Con New York.
Aram Bartholl:
Aram has been working in Berlin since 1995. In his art work he thematizes the relationships between net data space and every day life. "In which form does the network data world manifest itself in our everyday life? What returns from cyberspace into physical space? How do digital innovations influence our everyday actions?" His artworks have been shown at international art festivals such as Ars Electronica, Transmediale Berlin and Futuresonic Manchester. He has also participated in exhibitions at TENT Niederlande, VOORUIT Belgium, Eyebeam New York, Enemy Gallery Chicago, Total Museum of Contemporary Art Seoul, Australian Centre for Photography Sydney, eARTS Shanghai, LABORAL Spanien and Videotage Hong Kong. Aram Bartholl has presented his work in more than 30 lectures and workshops at conferences and universities.
More about Aram's work can be found here: http://www.datenform.de
Tobias Leingruber:
Tobias is a diploma student at the New Media programm of the Merz Akademie in Stuttgart (Germany).  He is a designer and programmer, in love with the internet - It's culture, technologys and endless creative possibilities. In 2008 he spent one semester at the Eyebeam Art & Technology Center in New York. Tobias is part of the artist collective Free Art and Technology Lab ( F.A.T. Lab) and he used to hang out as an Intern at the Rocketboom internet video start up. He did an exchange semester at the Piet Zwart Institute for Media Design MA in Rotterdam, and he is a scholarship student of the German Student Foundation. At the moment Tobias is travelling with his latest project artzilla.org, a platform for experimental browser software.
And here is more information on Tobias: http://tobi-x.com/

About Betahaus Berlin:
Betahaus Berlin will host this event. Betahaus is a unique place dedicated for creative people and new ways of collaboration. Active since 6 months only, the Betahaus team around Christoph Fahle and Tonia Welter have already managed to create a place which is alive and kicking.
Come and see for yourself.
About the program of the evening:
20:00 Upgrade / Betahaus Welcome
20:15 Presentation "Release early, often and w/ Rap Music" by FAT Lab (Aram Bartholl, Tobias Leingruber, Evan Roth (Skype))
21:00 Presentation "Skate the Web" by Tobias Leingruber + Jamie Wilkinson (Skype)
21:30 Schmuse'n'Booze with FAT Tunes (presented by DJ TBX)
Free entry.
This event is a cooperation with the transmediale festival for art and digital culture in Berlin.